Legal regulations on lockout tagout
What are the legal regulations on the subject of "lockout tagout"? In Germany, there is currently no legal requirement demanding the introduction of specific lockout tagout systems. However, this safety concept is ideal for implementing the maintenance assurance and accident prevention required by our laws.
The German Ordinance on Industrial Safety and Health (BetrSichV) defines these requirements in the "Minimum requirements for the use of work equipment by employees at work". Appendix 1 describes how command devices must be provided and arranged or can be secured. Appendix 2 of the "Minimum safety and health requirements for the use of work equipment by workers at work" stipulates that modification, repair and maintenance work may only be carried out when the work equipment is at a standstill. During such work, moving parts must be secured against being switched on and against unintentional movement.
DIN EN "Electrical equipment of machines (Part 1)" section 5.3 requires that the main switch must be lockable in the OFF position (e.g. by installing padlocks).
The accident prevention regulation DGUV regulation 3 (BGV A3) describes under § 6 how work must be carried out on active parts. An important point is mentioned here in paragraph 2, among others. There it says: "Before starting work on active parts of electrical systems and equipment, the voltage-free state must be established and ensured for the duration of the work". This also applies to unprotected adjacent parts or active parts that are in the vicinity (§ 7).
Basic steps to implement a lockout tagout system
Inventory – identify energy sources (risk assessment) and define them in a list. Define processes and responsibilities

Identify and clearly label energy control points (e.g. switches, fuses, valves) (e.g. with valve marks)

Purchase suitable lockout tagout locking system

Train employees
Who may use the systems?
The disconnection and connection of machines and systems and the necessary repair or maintenance work may only be carried out by persons who have the appropriate training, qualifications, specialist knowledge and experience (e.g. machine operators, electricians). In addition, a permit from the company must be available.
Ordering the right LOTO system
Every working environment has different requirements. In advance, it must be considered where on the respective machine the energy source must be switched off and locked. Is it the main switch, the fuse or maybe a valve?
Cable and valve interlocks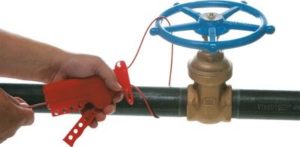 Cable interlocks and valve interlocks are used to reliably interlock mechanical hazard sources such as valves, ball valves or gas and air lines. They hold levers and Co. securely in a certain position. These lockout tagout locking systems are usually made of very stable materials such as steel or impact-resistant plastic. All devices have the possibility to be locked in combination with a security lock